The 2.6 Challenge
Liverpool Women's Hospital Charity calls on supporters to join The 2.6 Challenge from Sunday 26 April.
Liverpool Women's Hospital Charity, like so many charities across the UK, has been hugely impacted by the cancellation of thousands of fundraising events due to Covid-19.
In response, the organisers of the biggest mass participation sports events across the country have come together to create a new campaign to raise vital funds to help our fundraising and save the UK's charities.
The campaign, The 2.6 Challenge, will launch on Sunday 26 April – what should have been the date of the 40th edition of the London Marathon, the world's biggest one day annual fundraising event, which raised £66.4 million for charities in 2019.
From Sunday 26 April, we're asking you to dream up an activity based around the numbers 2.6 or 26 and fundraise by creating a 2.6 Challenge fundraising page or donate to Liverpool Women's Hospital Charity Just Giving page.
The 2.6 Challenge is open to anyone of any age – the only requirement is that the activity must follow the Government guidelines on exercise and social distancing.
5 simple steps to take:
1. Dream up your 2.6 challenge – if you need help there are lots of ideas going to be shared on our social media channels!
2. Head to twopointsixchallenge.co.uk to donate £26 (or whatever you can afford) or create a Justgiving page
3. Ask all your friends and family to sponsor you and challenge them to do their own 2.6 Challenge
4. Complete your challenge
5. Share a photo or video of your challenge on social media with #TwoPointSixChallenge #TeamLWH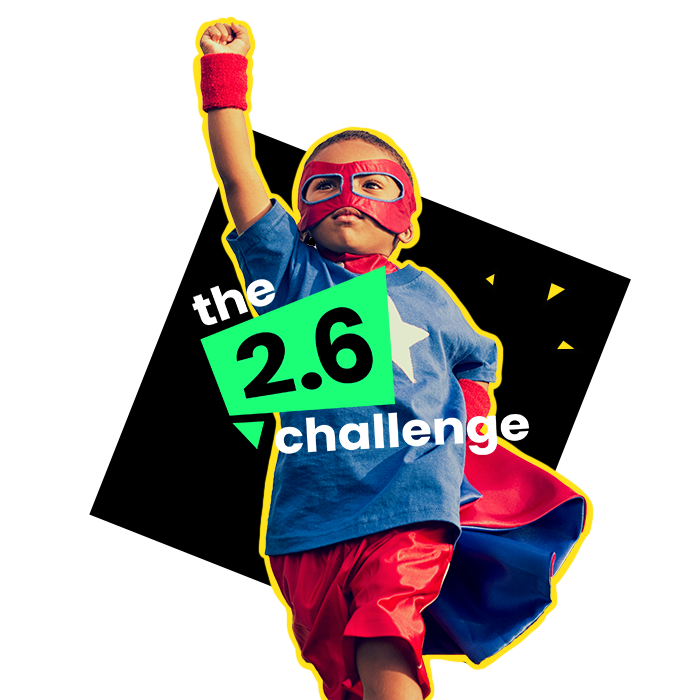 Here are some ideas…
· There are 26 red cards and 26 black cards in a deck – card game marathon over 26 hours
· There are 26 bones in the human foot – hop 2.6 miles
· Walt Disney has won 26 Oscars, the most ever – families could have a Disney-a-thon and watch 26 Disney films over a weekend
· 26 is known as the 'joke throw' in darts and is reached by throwing 20, 5 & 1 – you could compete with the people in your house to throw the highest number of 26s in 2.6 hours
· 26 is the atomic number of iron – why not complete an iron-a-thon by ironing every single item you own in the household including socks, undies even curtains?
· Play a games marathon over 26 hours
· Solve a Rubik's Cube in 26 moves or fewer (however mixed up the cube is, any configuration can be solved in 26 moves or fewer)
· Throw a ball between members of your family, without dropping it, for 2.6 hours
· Do 26 backflips
· There are 26 letters in the alphabet – try & come up with a sportsperson/musician etc for each letter
· Get 26 people on zoom to learn a song or TikTok dance and then stream a live performance
· Hold a handstand for 26 seconds
· See if you can stay silent & only communicate with your hands or other non verbal signals for 2.6 hours
· Cycle/walk 2.6 miles/kilometres every day until 26th April
· Read 26 books by 26th April (or 26 pages for younger readers)
· Send letters to 26 friends/loved ones
· Hit 26 holes-in-one on XBOX/PS golf game
· Learn the 26 letters of the alphabet in sign language and sign your name. Can you sign the alphabet in 26 seconds?
· Have a spring clean and sell 26 things on ebay/Viffit for Liverpool Women's
· Do 26 HIIT circuits in 2.6 days
· Give up chocolate for 26 days and donate the money you have saved
· Learn 26 words in a foreign language.
· Find 26 things on a scavenger hunt
...or come up with your own challenge. The possibilities are endless.
The mass-participation events organisers behind The 2.6 Challenge are: Human Race, parkrun, The Great Run Company, Run 4 Wales, Grounded Events, London Landmarks, Virgin Sport, Limelight Sports, Threshold Sports, Running High and London Marathon Events. The design and website has been created by Studio Republic and the social media campaign by LiveWire Sport. Both agencies are working pro bono. The campaign is supported by the Charities Aid Foundation, the Institute of Fundraising, the Small Charities Coalition, the Office for Civil Society, Sport England, Let's Do This, Virgin Money Giving and JustGiving.
For more information on The 2.6 Challenge, visit twopointsixchallenge.co.uk