Join our events
FUNDRAISING EVENTS AND COVID-19
As the situation and official guidance for Coronavirus (COVID-19) develops, we understand that you might be worried about that means for your fundraising events.

As the most important thing is the health and well-being of our supporters, we want to ensure we keep you all as prepared and informed as possible. There are a few things you can do to make sure that you are keeping yourself safe  

1)     Organised events - Try to avoid speculation and only use official news sources to get information about COVID-19. If you are concerned about events, make sure you check the official websites. If you can't find the information you want, contact the organisers and speak to them.

2)    Own run events – If you have planned your own fundraising event, see if you can postpone the event to a later date or even change your event to see if you can do something to raise funds for our work. 

3)    International challenge events – we advise all our fundraisers who are planning to participate in overseas challenge events to refer to the guidance from the Foreign & Commonwealth office and your tour operator.  

If you have any questions surrounding COVID-19 and your fundraising, please do get in touch with us and we will be happy to help in whatever way we can.
Pink & Purple Pram Push Postponed - July TBC
We are hosting a Pram Push in July (specific date TBC) at Croxteth Park (11am – 2pm) to help  raise funds for the Neonatal Unit via the Big Tiny Steps Appeal.
Please join us with your family for £10 to help support families at their most vulnerable when their baby is critical ill. Family Ticket = 4 participants but we are happy to be flexible on this. To purchase tickets click here: https://bit.ly/3dg1f9c
Sponsorship of this fun challenge is encouraged to help boost our fundraising. If you would like to set up a Just Giving page, follow this link here: https://bit.ly/2wOHFQG
The route is perfect for all ages and abilities and we welcome  babies, children, wheelchairs, adults of all ages and of course dogs! There will also be a face painting and celebrity guests!
Please come join the fun and show your support for our preterm and sick babies.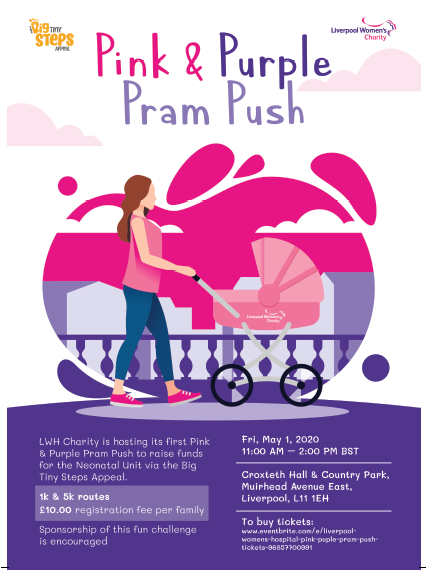 Summer Fair - 6th & 7th August 2020
Come along to Liverpool Women's Hospital on the 6th & 7th August with the whole family. There will be face painting, a teddy bear picnic, prizes to win for both parents and children and a very special appearance from Mr Tumble! 
The Fair will be on from 10am - 4pm. Details of when Mr Tumble will be doing his show will be announced near to the time of the event. 
Details of stall holders attending will be also announced closer to the event. This will be a fantastic time to shop unique items and gain free goodie bags at this exclusive event!
Come down for a fun packed day and show your support for the Liverpool Women's Hospital Charity.
Winter Wonderland - 8th - 10th December 2020
Come along to Liverpool Women's Hospital on 8th to the 10th December and join Liverpool Women's Charity as they start to celebrate Christmas.
To bring festive cheer to Liverpool Women's a three day Winter Wonderland celebration with patients, staff, volunteers and visitors will take place this year in December with Liverpool Women's Charity from 10am to 4pm each day (with late night shopping until 6pm on the Wednesday).
Go Neon for Neonatal Day - Friday 27th November 2020
We are asking schools, companies, social groups, children clubs and membership groups to host a 'Go Neon for Neo Day', to help raise awareness of preterm birth and the concerns of preterm babies and their families worldwide. Find out more on how to get involved. 
Share your photos of the day with us and make sure to use the hashtag #Neon4Neo #BigTinySteps